| | |
| --- | --- |
| | "The European Multidisciplinary Society for Modelling and Simulation Technology" |

Dear Colleague,
welcome to the July issue of the electronic Simulation News Europe Newsletter of EUROSIS. It took me just a bit longer to get back to our newsletter then I had expected but things were a bit hectic in the past months.
Last point, if in the next couple of weeks I reply a bit later then expected, don't worry as I'm in and out of hospital for treatment and I will get back to you asap.
Having said that, do enjoy the issue or your holiday.

This issue has the following topics:
1) EUROSIS Members Update
2) Job Offer
3) EUROSIS Conferences Update
4) Online Pictures Update
5) New EUROSIS Publications
6) Website updates
1) EUROSIS Memberships
We have the pleasure to announce that EUROSIS has its first full Academic Member (see below)



The Virtual Systems Research Centre at the University of Skövde in Sweden encompasses a number of research groups from various disciplines. The main areas of research within the Centre are virtual product- and production development and serious gaming. Other examples are the use of virtual manufacturing tools in healthcare organisations and simulation-based optimisation of logistic systems. The group Intelligent Automation is Preferred Research Partner for the area of virtual manufacturing within the Volvo Academic Partner Program.

And two new full time members:
1) Barbaros Bostan, National University of Singapore, Singapore
2) Helena Barbas, CENTRA-Universidade Nova de Lisboa, Caparica, Portugal
I also received the following job offer which has to be filled by September of this year.

Dear colleagues,
Next September, the Department of Mathematics of the Royal Military Academy in Brussels (Belgium) will be recruiting a researcher for a project in the field of computer simulation (applied to medical disaster management). The complete job description can be found in attachment. This job offer is open especially to those students who are right now finishing their Master.
Contact: Filip Van Utterbeeck


You can download the job description here in doc format

[] For FOODSIM'2010, those participants who have at yet not returned
their evaluations with regard to the best paper, please do not forget
to do so before August 5th.

[] For ESM'2010, the LATE submission deadline has been extended to
AUGUST 15. Papers that are already in are being distributed for review
from this week onwards.
[] GAMEON'2010, November 17-19, 2010, Holiday Inn, Leicester, United Kingdom (website has been updated)

For your diary these are the EUROSIS conferences from December 2010 and beyond.
[] MESM'2010, December 1-3, 2010, Alexandria, Egypt (CFP will go out shortly)
[] GAMEON-ARABIA'2010, December 1-3, 2010, Alexandria, Egypt (CFP will go out shortly)
[] ASTEC'2011-GAMEON'ASIA'2011, March 1-3, 2011, Digipen/Ubisoft Research Center, Singapore (website online next month)


Achieving Competitive Excellence

[] EUROMEDIA-ECEC-FUBUTEC'2011, April 2011, British Institute of Technology and Ecommerce, London, United Kingdom. (websites coming online shortly)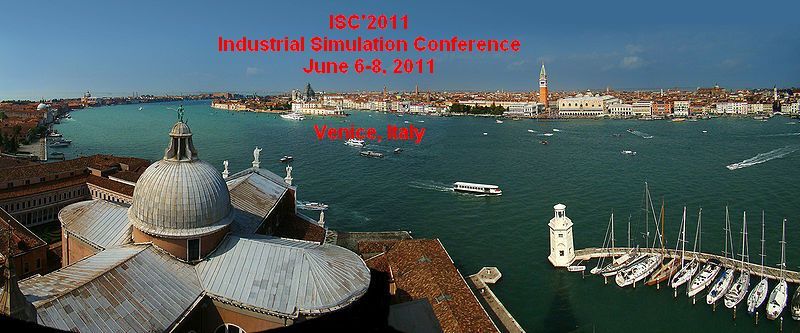 [] ISC'2011, June 6-8, 2011, Centro Culturale Don Orione, Venice, Italy, in cooperation with the Universita' Ca' Foscari di Venezia. (website coming online by August 30)
[]

GAMEON-NA'2012-NASTEC'2012, 2012, Digipen Institute of Technology, Redmond WA, USA
[] ESM'2011, October 24-26, 2011, Hotel de Guimaraes, Guimaraes, Portugal
[] GAMEON'2011, November 2011, Galway, Ireland (under discussion)
[] ASTEC'2012-GAMEON-ASIA'2012, March 2012, Ritsumeikan University, Kyoto, Japan
[] ISC'2012, June 4-6, 2012, Hotel International, Brno, Czech Republic
[] FOODSIM'2012, May-June 2012 (under discussion)
[] GAMEON'2012, week of November 12-16, 2012, University of Malaga, Malaga, Spain
[] ASTEC'2013-GAMEON-ASIA'2013, March 2013, Beijing, China
[] ISC'2013 Sardegna TBA
[] ISC'2014, June 2014, Högskolan Skövde, Skövde, Sweden

Well continuing upon the aim to link pictures just before each newsletter
I have delved through the picture archives on the one hand (more are still
to come in this group) and received from other participants of the last three
conferences a number of conference pictures. Again if any of you have pictures
you wish to share do not hesitate to send them to me.
Here is the list of picture updates
[] EUROMEDIA'2006
[] FOODSIM'2008 (new pictures added)
[] FOODSIM'2010 (thanks Ursula Barron)
[] GAMEON'2004 (thanks Ingo Steinhauser)
[] GAMEON'2005 (thanks Ingo Steinhauser)
[] GAMEON'2007 (thanks Worapoj Thunputtaraku and Dragos Datcu)
[] GAMEON-ASIA/NASTEC'2010 (thanks Renate Sitte)
[] ISC'2010 (Thanks Gabor Lencse)

The following publications have been added to our publications list
Proceedings

EUROSIS Member Prices

Non-Member Prices



ISC'2010
(Covers Simulation Methodology and AI, Simulation Tools, Management Simulation, Business Process Modelling, Manufacturing Process Simulation, Manufacturing Optimization, Virtual Manufacturing, Complex Engineering Systems Simulation, Traffic Simulation, Inventory Logistics and Supply Chain Simulation, Telecom Networks Simulation, Fluid Chemical Simulation and Simulation in Energy)
June 7-9, 2010, Ramada Plaza Hotel, Budapest, Hungary
Edited by Gabor Lencse and Laszlo Muka
Grey Brown Cover
Softbound, 266 pages, Contents
ISBN 978-90-77381-5-57
P.V.: € 60
E.V.: € 25
P.O.D.: € 75
P.V.: € 80
E.V.: € 35
P.O.D.: € 90


FOODSIM'2010
(Covers Methods and Statistical Analysis, Fuzzy Logic, Neural Networks, Fluid Mechanics, Rheology and CFD, Thermodynamics and Heat Transfer, Food Process Control and Captors, Simulation in Food Sciences and Biotechnology, Food Microbiology and Growth Models, Food Quality, Applications in Industry and Agriculture, Image Treatment and Physico-Chemical Analysis, Microbiology and Biotechnology and Food Production)
June 24-26, 2010, CIMO Research Centre, Braganca, Portugal
Edited by Vasco Cadavez and Daniel Thiel
Blue and Green cover
Softbound, 252 pages, Contents
ISBN 90-77381-56-4
P.V.: € 50
E.V.: € 10
P.O.D.: € 50
P.V.: € 60
E.V.: € 20
P.O.D.: € 60

P.V.: Printed Version
E.V.: Electronic Version for download (consists of coverfile, first pages file, contents file and all scientific contents, all files are in pdf format)
P.O.D.: Printed on Demand (when the book is SOLD OUT*, we can still produce a printed copy on request).
The GAMEON-ASIA'/ASTEC'2007 CD is now free for download.

In the coming months we will expand the number of informative simulation
pages and upgrade to a new software version. Before we upgrade the
software you will be informed when the website will be unavailable.

See you for next month's issue
Philippe
-
Philippe Geril Tel: +32.59.255.330
EUROSIS -ETI Fax: +32.59.255339
Greenbridge NV E-mail: philippe.geril@eurosis.org
Wetenschapspark 1 E-mail: pgeril@yahoo.co.uk
Plassendale 1 URL: http://www.eurosis.org
B-8400 Ostend
Belgium
*********************************************************************
* Your Scientific information site on *
* Computer Simulation - Concurrent Engineering - Multimedia- Games *
* WWW.EUROSIS.ORG *
*********************************************************************
THINK BEFORE PRINTING
**** DISCLAIMER ****
"This e-mail and any attachments thereto may contain information
which is confidential and/or protected by intellectual property
rights and are intended for the sole use of the recipient(s) named
above.
Any use of the information contained herein (including, but not
limited to, total or partial reproduction, communication or
distribution in any form) by persons other than the designated
recipient(s) is prohibited.
If you have received this e-mail in error, please notify the sender
either by telephone or by e-mail and delete the material from any
computer.
Thank you for your cooperation."
===============================================================
This email is sent out to all those on the EUROSIS-ETI database.If
you want to be removed from this database or want to update your
address details, please send an email to Philippe.Geril@eurosis.org
===============================================================