Conference Location

Málaga is a thriving and dynamic city in Southern Spain. Bathed by the Mediterranean See and surrounded by Málaga Mountains, the city enjoys a warm climate tempered by the proximity of the sea. This has contributed in making Málaga one of the main touristic destinations in Europe. The city has ,however, much more to offer than sun and beaches.
Indeed, Málaga is a city of Art & Culture: having been founded by the Phoenicians in 7th century BC and subsequently ruled by Romans, Moors, and Castillian Kings, the city comprises numerous monuments (the Roman Theater, the Moorish Fortress and Castle, the Cathedral, etc.), churches, palaces, and noteworthy buildings that illustrate its historical past.
Málaga was also the home town of Pablo Ruiz Picasso, and not surprisingly it is also known as the City of Museums with +30 museums devoted to Painting, Sculpture, Music, Jewellery, Sports, just to name a few. All of the above can be complemented by letting oneself be embedded in Malagueño life style, enjoying the local gastronomy, the warm weather, and the hospitality of the people. And if you need more, Málaga is an excellent base for exploring nearby places, thanks to its exceptional transport infrastructure.
Climate
Málaga enjoys a subtropical climate. It has one of the warmest winters in Europe, with average temperatures of 17 °C during the day and 7-8 °C at night in the period from December to February. The summer's season lasts about 8 months, from April to November, although also in the remaining 4 months temperatures sometimes reach around 20 °C.
Beaches
The Málaga beaches are privileged to be located alongside a grand city with all that this signifies in inherent services and attractions. With an extension of 14 km, they have excellent communications, both by public transport and by private means and they are separated from the urban traffic by magnificent esplanades that make them true havens of peace and oases of tranquility.
Think of the advantage of being able to combine, in one destination, a wealth of monuments, museums, culture and gastronomy with the possibility of stretching out in the sun or simply taking a walk along our beaches. In one and the same city, you can delight in the genius of Picasso or visit a monumental ensemble such as the Alcazaba-Gibralfaro-Roman Theatre, and at the same time enjoy some great beaches where you can sunbathe, practice some sport, walk, or just sit, relax and rest. There are many ways of enjoying them, and remember that a trip to the beach is great any time of the year.
Monuments
The old historical center of Málaga contains architectural remains from all civilizations (Phoenician, Roman, Visigothic, Arab and Spanish) that have ruled the city in the last 2,700 years. Among the most remarkable sights we can cite:
In addition to the above, Málaga features numerous Renaissance and Neoclassical churches and abbeys, as well as several palaces and a plethora of other noteworthy buildings. Please check here for more details.
City of museums
With over thirty museums, fifteen of them grouped together in the same area, Málaga has become a true City of Museums. With the incorporation of new projects (Wine Museum, Heritage Museum, Fine Arts Museum and the Holy Week Museum), its Historical Quarter alone will have as many as twenty-three museum facilities (whose themes include painting, religious art, archeology, bullfighting, flamenco, science, etc.), making Málaga one of the cities with the highest density of museums in its Historical Quarter. There is the additional advantage that all are close to one another, most of them in pedestrian areas with easy access.
Those with an inclination to painting will appreciate the museums devoted to Picasso, the world-renowned Malagueño artist whose birthplace (and museum) can be visited at the Plaza de la Merced, 15. Also devoted to Picasso is the Picasso Museum of Malaga located in the Buenavista Palace. In addition to Picasso, Málaga hosts other remarkable museums such as the Museo Carmen Thyssen Málaga located in 16th-Century Villalón palace, which harbors an impressive collection, the Malaga Contemporary Art Centre (CAC) located in the former Wholesalers Market, and the Municipal Museum, located in Paseo Reding 1. This video shows some visual excerpts of these museums.
The map below provides an overview of the location of museums in the Historical Quarter.

See Malaga. City of Museums in a larger map.
Nature and Parks
Gastronomy
A trip around the culinary world of Málaga can many times confuse somebody who is just beginning to learn the Spanish way of life: they don't know what this is or that is… it is almost impossible to present a complete list of the dishes here, since there are too many to list but it is very simple: when you find something that you don't know what it is in a restaurant menu, try it!
Typical food that we recommend are the fried fish that is the king of Malagan gastronomy, the Victorian anchovy and clams. Typical fish foods are: "Boquerones fritos" (fried anchovies), "Salmonetitos" (Fried Small Red Mullets), "Chopitos" (Baby cuttlefish), "Calamaritos" (Fried Small Squids), "Rape" (Angler fish), etc. Andalusian gazpacho is outstanding as a first dish. Ajoblanco is another type of cold soup, made of a mixture of almonds, garlic, olive oil, dry bread, muscatel grapes, vinegar and salt.
You must try and taste, of course, all the specialties that the Coast of the Sun offers you, as the salmorejo, a gazpacho with almost no water, a tortilla (omelet) of potatoes with onions and peppers, or some grilled shrimp or boiled with salt. Málaga, like in any other city in Spain, also has has its own special paella, being in this case the "seafood" one.
Note also that Andalusia is the region of tapas by excellence. These are little dishes of food that go very well with a cold beer or a "summer red wine" or any other cold drink. They are usually eaten around noon time as an aperitif or as they say "when you go out to eat tapas the aperitif and lunch turn into one meal". As a fact this expression "GOING OUT FOR TAPAS" implies going from bar to bar, tasting the specialties of the "house" in these small portions with whatever drink you prefer. Recall also that Málaga province is a land of wines (production dates back to the city foundations). There are two Denominations of Origin: "Málaga" (comprising liquor wines and naturally sweet wines) and "Sierra de Málaga" (comprising white and red wines).
Shopping and Going Out
Málaga offers you all you need and even more in terms of shopping. You can find several large shopping centers in downtown, e.g.,
and several other in the outskirts of the city. You can also opt for the small shops in any of the shopping streets of the Historical Quarter, such as Calle Nueva or Calle Larios.
If you go out for shopping in the morning, you may consider taking a break for a late mini-breakfast (coffee or hot chocolate with churros is a good option) or -if late enough- for a drink an some tapas. There are plenty of cafes, bars and terraces where you can enjoy such a break. You can do similarly in the afternoon: actually, the merienda (afternoon snack) is one of the most respected meals in Spain. You can try one of the several nice Moroccan-style tea houses in town, serving an amazing variety of teas in addition to other interesting non-alcoholic drinks, which you can accompany with some pancakes.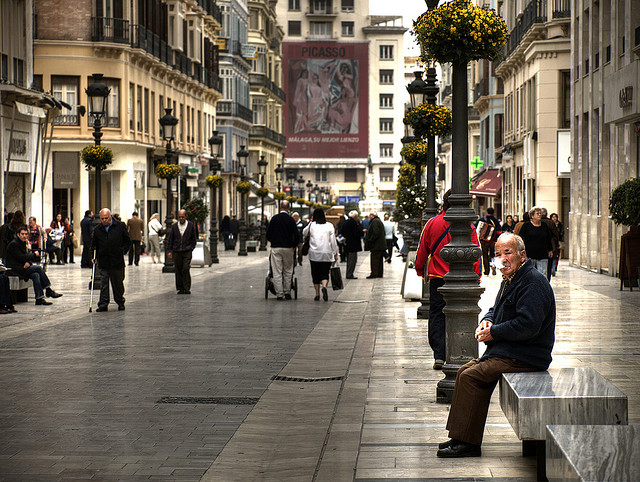 If you want to go out for a drink in the evening, there is always a party atmosphere everywhere and it would be very difficult not to have a great time when you go out at night in the historic downtown area of Málaga. After a tasty little dinner you can keep on partying in all the bars and discotheques that are open until the early hours of the morning. This nightlife area goes from Plaza de la Merced to Plaza de la Constitución, along the streets and squares – Granada, Alcazabilla, Plaza de Uncibay, Convalecientes, Comedias, Luis de Velázquez, Santa Lucía – etc., and many others, all of them full of great spots to spend a night out. Of course, you may prefer more relaxed areas where you can talk, enjoy a drink and some good music. Most of the establishments in La Malagueta, Paseo de Sancha, Limonar and Pedregalejo provide the ideal setting for an evening chatting with friends accompanied by good music.
promotional video
Parts of this text were copied from

Conference Venue
This year the Game-On conference will be held at
ETSII (Escuela Técnica Superior de Ingeniería Informática)
Universidad de Malaga
Bulevard Louis Pasteur, 35
Teatinos Campus.
E-29071 Málaga, Spain
See the map of the location of ETSII here.
Exact room is: Sala de Grados B, located on the 4th floor of the library building
How to reach Malaga and the conference venue
By Plane





Getting to Málaga by air is the most convenient option for visitors from abroad. Málaga's airport (AGP) is Spain's third largest one after Madrid and Barcelona, and handled a traffic of 12 million passengers last year. The airport has been enlarged last year, and brand new terminal T3 is now available (3D virtual visit available here). This new terminal has handled more than 100 000 operations since its opening in March 2010.
More than 60 companies operate flights to Málaga, including both major airlines (Iberia, British Airways, Air France, Lufthansa, KLM, Alitalia, …) and low-cost ones (Easyjet, Ryanair, AerLingus, Germanwings, …). Please, check a listing of airlines serving flights to Málaga here. There are direct flights from most major European cities.
Connections to the airport
There is a bus connecting the airport with the city center, that runs every hour. However, taxis are the easiest transportation method. The fare from the airport to and from the city center is about EUR20 (extras: Sundays, late at night, extra baggage, etc). A commuter train (Cercanías) can also take you to the Main Station in downtown (ticket price is EUR 1.35).
See the map of reaching ETSII from the airport here.

By Train




Málaga offers good connections by train to cities like Madrid (4 hours, 7/day), Córdoba (1 hour, 7/day), Seville (2 hours, 5/day), Barcelona (1/day), Bilbao (1/day). More info about trains.
See the map of reaching ETSII from the trainstation here.

By Bus

There are also good connections by bus with cities near Málaga: Granada (1:45 hours), Almería (3 hours), Córdoba (2 hours), Cádiz (3:30 hours), Seville (2 hours). You can also find buses to Madrid (5 hours), Valencia (7 hours) and Barcelona (10 hours). More info about buses. Once in Malaga take either Lines 8, 20 and 22 which have stops very close to the School (less than 1 min). From the city centre you can take line 20. See the map of reaching ETSII by bus here.
For those in the city centre go direct to the University by Bus number 20. The bus stop is in the "Alameda Principal", very near most city centre hotels (about 50 meters)

By Taxi

From the city centre, a taxi costs around 6 euros. And from the airport, around 10 euros.

By Car

There are motorway connections with Granada (125 km), Seville (220 km), Madrid (550 km) and Córdoba (180 km). And there are also secondary roads to reach Almería (250 km) or Cádiz (250 km). More info about roads. On how to get to the University once you are in Malaga, follow this link.

By Boat

There are regular connections to Melilla, Ceuta and Tangier. More info about boats.
Malaga Maps
Click on the maps above for a more detailed view
Useful links