Conference Venue

Amman, is the capital city of the Hashemite Kingdom of Jordan, a city of 2,125,400 inhabitants (2005 estimate), and is located in a hilly area of north-western Jordan. The city was originally built on seven hills, but it now spans over an area of nineteen hills (each known as a jabal or "mountain"). The main areas of Amman receive their names from the hills and mountains on whose slopes they lie.


on the map above for a more detailed map of Jordan

History




Throughout history, Amman has been inhabited by several civilizations. The first civilization on record is during the Neolithic period, around 8500 BC, when archaeological discoveries in 'Ain Ghazal, located in eastern Amman, showed evidence of not only a settled life but also the growth of artistic work, which suggests that a well-developed civilization inhabited the city at that time.

Neolithic period

One of the largest known prehistoric settlements in the Near East was discovered in the outskirts of Amman. Called 'Ain Ghazal, which dates as far back as 7250 BC spanning over an area of 15 hectares. It started as a typical aceramic, Neolithic village of modest size.

Rabbath Ammon

In the 13th century BC Amman was called Rabbath Ammon or Rabat Amon by the Ammonites. Being the capital of the Ammonites around 1200 BC, it was also referred to as "the City of Waters". It was later conquered by the Assyrians, followed by the Persians, and then the Greeks. Ptolemy II Philadelphus (283-246 BC), the Hellenic ruler of Egypt, renamed it Philadelphia in the 3rd century BC,(Greek for "The Brotherhood Love"). The City later came under Seleucid as well as Nabataean rule until the Roman General Pompey annexed Syria (AD 106) and made Philadelphia part of the Decapolis League - a loose alliance of ten free city-states, bound by powerful commercial, political, and cultural interests under overall allegiance to Rome.

Hellenistic period

Conquest of the Middle East and Central Asia by Alexander the Great, firmly consolidated the influence of Hellenistic culture. The Greeks founded new cities in Jordan, such as Umm Qays, Jerash and Amman which was then renamed from Ammon to Philadelphia for brotherly love in Greek, by Ptolemy II Philadelphus, the Macedonian ruler of Egypt who reigned from 283 to 246 BC who occupied and rebuilt the city. He was supposedly given the nickname of Philadelphus, so it was named Philadelphia after him.

Roman Rule

Under the influence of the Roman culture, Philadelphia was reconstructed in typically grand Roman style with colonnaded streets, baths, an Amphitheater, and impressive public buildings. In 324 AD, Christianity became the religion of the empire and Philadelphia became the seat of a bishopric during the beginning of the Byzantine era. One of the churches of this period can be seen on the city's Citadel.

Ummayad rule

The city declined somewhat until the year 635 AD. As Islam spread northwards from the Arabian Peninsula, the land became part of its domain. Philadelphia was renamed Amman during the Ghassanian era, and flourished under the Caliphates (with nearby capital) of the Umayyads (in Damascus) and the Abbasids (in Baghdad). It was then destroyed by several earthquakes and natural disasters and remained a small village and a pile of ruins until the Circassians settlement in 1887. The tide changed when the Ottoman Sultan decided to build the Hejaz railway, linking Damascus and Medina, facilitating both the annual haj pilgrimage and permanent trade, putting Amman, a major station, back on the commercial map.

Ottoman rule

During the Ottoman rule Al-Salt was the political capital. It was only after the departure of the Ottoman rule that Amman began flourishing again with settlement of Circassians that came during their exodus. Between 1872-1910, tens of thousands of Circassians were forcibly relocated to Ottoman Syria. Ottoman records from 1906 shows 5,000 Circassian living in Amman and virtually no inhabitants who spoke Arabic. The tide changed when the Ottoman Sultan decided to build the Hejaz railway, linking Damascus and Medina, facilitating both the annual hajj pilgrimage and permanent trade, putting Amman, a major station, back on the commercial map.

Under the British Mandate and Independence

In 1921, Abdullah I chose Amman as seat of government for his newly-created state, the Emirate of Transjordan, and later as the capital of the Hashemite Kingdom of Jordan. As there was no palatial building, he started his reign from the station, with his office in a train car. Amman remained a small city until 1948, when the population expanded considerably due to an influx of Palestinian refugees from the occupied territories. Amman has experienced exceptionally rapid development since 1952 under the leadership of two Hashemite Kings, Hussein of Jordan and Abdullah II of Jordan.
Present Day Amman

The city's population continues to expand at a dizzying pace (fueled by refugees escaping the wartime events in the occupied territories and Iraq). The city received refugees from these countries on a number of occasions. The first wave of Palestinian refugees arrived from the occupied territories in 1948. A second wave after the Six Day War in 1967. A third wave of Palestinian and Jordanian and South East Asians, working as domestic servants, refugees arrived in Amman from Kuwait after the Gulf War of 1991. The first wave of Iraqi refugees settled in the city after the first Gulf War. A second wave also began arriving after the invasion and occupation of Iraq in 2003. During the last 10 years the amount of new building within the city has increased dramatically with new districts of the city being founded at a very rapid pace (particularly so in West Amman), straining the very scarce water supplies of Jordan as a whole, and exposing Amman to the hazards of rapid expansion in the absence of careful municipal planning.





Amman is also blessed by the fact that it is located in the vicinity of a number of important historical sites, such as Petra (The Pink City), Jerash, Madaba, Mount Nebo, Kerak, Wadi Rum...to many to mention here, and some of which we will visit as part of the MESM'2011 social programme. See some examples below.
Parts of this text as pictures used were copied from

Conference Location
The conference will be held at the The Arab Open University/Jordan Branch.
Behind Queen Alia Hospital and Close to the Association of Arab University
Tareq, Amman
Tel No: +962 6 5630630+962 6 5630630
Fax No: +962 6 5630610
Email: director@aou.edu.jo
Getting to Amman

By Plane

The city's main airport, Queen Alia International Airport, is situated about 30 minutes south of Amman and hosts the majority of the air travel to and from the country. Besides Royal Jordanian, more than 20 international air carriers fly into Queen Alia International Airport located 35 km south of Amman. The flying time from the major European cities is about four hours.

The easiest way to reach downtown Amman from the Airport is by taxi; the Journey takes 30-45 minutes, the fare is about 20JD which is equivalent to around EUR 26.
Taxis are readily available outside the terminals. Public Landside - Arrivals Hall
Tel: +962 6 4451074
Tel: +962 6 4451302
However, shuttle buses to the city centre bus station also available, leaving the Airport every half-hour.
A Sariyah shuttle bus, which plies back and forth around the clock between Amman and the airport is a convenient and cost effective way to reach the airport, for more details please visit http://www.qaiairport.com/en/content/transportation
Bus Route:
North Bus Station - Housing Bank Complex - Fourth Circle - Fifth Circle - Six Circle - Seventh Circle - QAIA.
Airport Amman Shuttle Bus
In front of the Arrivals Hall on the curbside
Tel: +962 6 4891348
Tel: +962 6 4891073
Fax: +962 6 4893696
E-mail: sariyahexpress@tedata.net.jo
Working Hours: 24/7 - Time table
Cost: JOD 1.400 Adult one way. Buy the ticket on board from the driver.

Also located in Amman, Marka Airport mainly serves as a regional airport servicing domestic and nearby international routes. Home to airlines such as Royal Wings, Jordan Aviation, and Arab Wings, Marka Airport is operational 24 hours a day.
Tel: +962.(0)6 4891401
Fax: +962.(0)6 4891653

As Jordan's gateway to the Red Sea region of Aqaba, King Hussein International Airport (KHIA) is approximately a 45 minute flight from either of Amman's airports. Serviced by national and international carriers, KHIA is quickly growing to be a regional hub for both the holiday and business traveler alike.
Tel: +962.(0)3 2012111
Fax: +962.(0)3 2012397

By Train

The Hejaz Railway is a century old rail line that was used primarily for pilgrims to reach the holy city of Mecca and Medina but now the rail line is basically used by tourists. There are new projects that are being built to add more rail-lines in the Kingdom, most of which will go through Amman.

By Bus and Taxi





By land, the city has frequent bus connections to other cities in Jordan as well as to major cities in neighboring countries; the latter are also served by service taxis. Internal transport is served by a number of bus routes and taxis. Service taxis, which most often operate on fixed routes, are readily available and inexpensive. The main two bus and taxi stations are Abdali (near the King Abdullah Mosque, the Parliament and Palace of Justice) and Raghadan (near the Roman Amphitheater in Downtown).
Taxi fares within Amman are very cheap, with most trips costing JOD 2 or 3.
The main bus company operating within Amman and beyond is Jett

By Car

Amman has a very extensive highway system that links every part of the city to one another. There are eight circles that one could use to go from one section of Amman to another. All major highways in Jordan pass through Amman as well. You can rent a car from AVIS or Hertz at Queen Alia Airport.
Useful Maps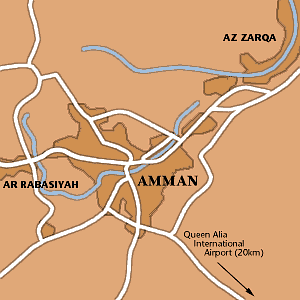 Click on the above map for a detailed Map of Amman with hotel locations
Other Maps: Downtown Amman - Jebel Amman - Amman Map
Visitor's Survival Guide
Tourist Facilities: Tourist facilities are widely available, although quality may vary depending on price and location. The local workweek for Jordanian government offices and most businesses is Saturday through Thursday. The embassies in Amman are open Sunday through Thursday.

Entry Requirements: A passport and visa are required. Visitors may obtain a visa for Jordan at international ports (also Amman Airport) of entry, not including the King Hussein (Allenby) Bridge, upon arrival, for a fee. Be sure to have some cash with you to exchange money in order to obtain your visa, and again keep some cash when leaving the country to pay the airport taxes. Participants from non- Western European countries please check with the Jordanian Embassy in your country. Foreigners who wish to stay fourteen days or more in Jordan must register at a Jordanian police station by their fourteenth day in the country. Failure to do so subjects the traveler to a one Jordanian dinar (currently U.S. $1.40) per day overstay fine. This fine is usually assessed at departure.
The fees of entry visa for all nationalities are:
JD 40.00 (or equivalent) for single entry valid for two months obtained upon arrival at the airport.
JD 60.00 (or equivalent) for two entries within a period of three months, and can be obtained at the nearest embassy/consulate.
JD 120.00 (or Equivalent) for multiple entries within a period of 6 months and can be obtained at the nearest embassy/consulate.
Groups of five persons or more arriving through a designated Jordanian tour operator with a government-certified tour guide are exempted from all visa charges, provided that the group arrives and departs together as well as stay a minimum of 3 nights in Jordan.
The exit service fee applies for land and sea border points At the cost of JD 8 per passenger and JD 5 per vehicle.
For more info see: Entry into Jordan
and
Queen Alia Airport VISA requirements
Customs Requirements: Internationally prohibited items, such as drugs, firearms, poisons, chemicals, explosives and pornographic materials, among others, may not be imported into Jordan.
Medical Facilities: Basic modern medical care and medicines are available in the principal cities of Jordan, but not necessarily in outlying areas. Doctors and hospitals often expect immediate cash payment for services.
Useful Links