In just a few years, Toulouse made a name for itself an image as hive of economic activity. Aeronautics, space, electronics, information technology and biotechnology are the key words for this big city that has forged a major reputation for itself. .

However, Toulouse's growth has taken place in a way that respects the essential values that go to make for a quality life-style; Toulouse is a good place to live, proud of its re-found heritage and whose intense cultural life can suit both the cultural elite and the amateur.
Toulouse's real secret lies in its combination of youth and experience. It is home to the oldest fellowship in France, with the Académie des Jeux Floraux poetry prize association, and also the youngest, with the Académie de l'Air et de l'Espace devoted to aeronautics and space. This is a place where astronauts can gather together just around the corner from the mediaeval cloître des Jacobins Dominican priory or the Cité de l'Espace Space Museum, where the arts and techniques of tomorrow's world can find full expression.

With more than 700,000 inhabitants and growing steadily, the greater urban district of Toulouse is among the biggest cities In southern Europe.

The general quality of life, including the good food, make Toulouse a fine place to live and work. It's a City with a distinct accent, often celebrated in song and verse. Recent years have seen huge strides in terms of town planning and infrastructure, with the underground (metro), car parks, bridges, ring roads, urban expressways and motorways, development of the Toulouse-Blagnac Airport and so on.

Toulouse, situated between the Mediterranean and the Atlantic, some 456 miles from Paris, is capital of the great Midi-Pyrénées region and is the 4th largest French city.

With more than 700,000 inhabitants and growing steadily, the greater urban district of Toulouse is among the biggest cities In southern Europe.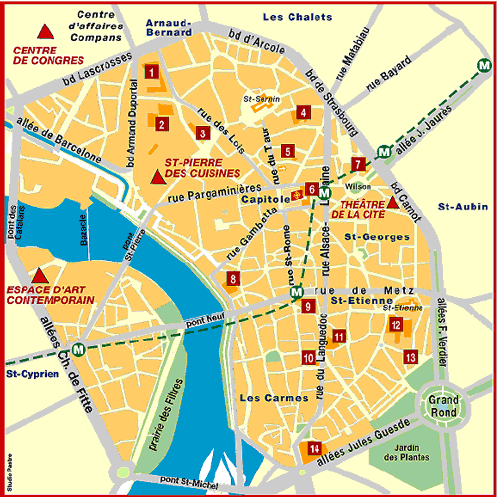 Toulouse City Centre Map

Légende
1: Cité Administrative - 2: Univ. Sciences Sociales - 3: Institut d'Etudes Politiques - 4: Bibliothèque Municipale
5: Pharmacie de nuit - 6: Office de Tourisme - 7: Espace Wilson - 8: Ecole des Beaux-Arts - 9: Espace Transports Semvat
- 10: Toulouse Accueil - 11: Chambre de Commerce - 12: Préfecture - 13: Rectorat - 14: Palais de Justice
| | |
| --- | --- |
| | Toulouse is well known for its significant role in aeronautics and space, but Toulouse know-how is also heavily invested in other major fields like electronics, health-related industries, food processing, strategic services, information technology, etc. The Ville Rose is also in the forefront of other advanced technologies like microbiology, biotechnology, etc. |
| | |
This is the biggest university town outside Paris! Right from its foundation in 1229, the University of Toulouse has managed to assert its personality and develop its own specific character. Nowadays, Toulouse is very much a university city. More than 110,000 students attend its 3 polytechnics and universities.

The fine Occitan City is familiar with the great classics and has an outstanding cultural and artistic heritage. The many museums, concert halls and theatres keep the great tradition alive
---
The EUROMEDIA 200

5

conference, co-located with the ECEC'200

5

conference is co-located at

IRIT

,

Universite Paul Sabatier

,

Toulouse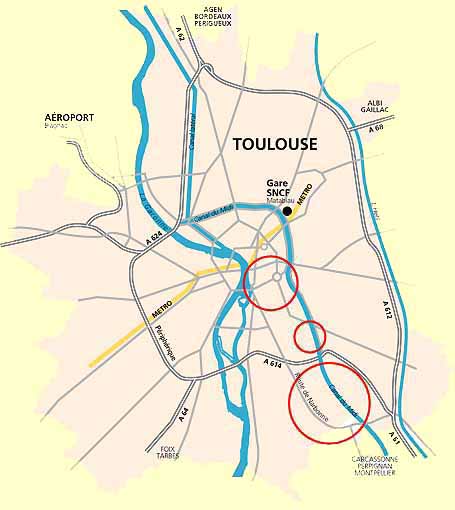 Location of the University in relation to the city centre (southern most circle).
| | |
| --- | --- |
| | The conference will be held at the IRIT building |
| | Shuttle Buses will take the pqrticipants from a couple of hotel locations to the conference site in the morning and back in the evening at set times. These times will be announced later. |
---
How to get to Toulouse
and other General Information
By Air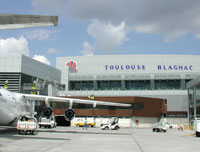 4th French airport : Toulouse-Blagnac
Phone : +33 (0)5 61 42 44 00
Toulouse Airport: http://www.toulouse.aeroport.fr/
At ten minutes from downtown A shuttle service is organised between the airport and the centre of Toulouse. Departure is from door C on the ground floor. The shuttle frequency is every 20 minutes from 6h30 to 23h00. The one way ticket fare is 4 Euros.
Airport Shuttle: http://www.navettevia-toulouse.com/
The usual cost for a taxi from the Toulouse Blagnac Airport to the city center and the hotels is about 25 Euros during weekdays, but the price is higher at night and on the weekends.
Car rental facilities (Ada, Avis, Budget, Europcar, and Hertz) are available, both at the airport and in the city.
By Train
5h30 from Paris with fast train
2h from Montpellier
2h from Bordeaux
Railway station in the town center (08 36 35 35 35)

Train times
Search for train times, prices and availability on the SNCF website
By Metro

A new way to enjoy the town : with the line A of Toulouse subway linking Basso-Cambo (west) to Jolimont (east) and 55 lines of buses, this complementary system is proposed to the benefit of all inhabitants of the urban area of Toulouse to improve their urban displacements
More information on Toulouse subway...
Hallo SEMVAT : 05 61 41 70 70
For any information on the bus-subway network, the fares, the timetables, the lost property, the general information...
By Bus and Car
To Toulouse by car.
Paris by motorway :
By West via Bordeaux (A 62)
By the East via Narbonne (A 61) and Lyon
The main roads into Toulouse and Toulouse ring road are given on the following map.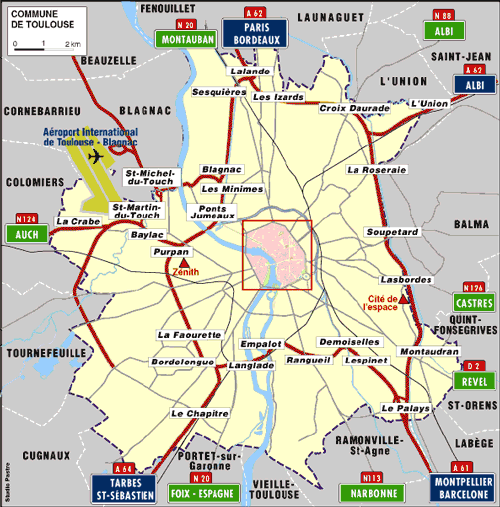 ---
General Information

Entry Formalities for France
A valid passport is required for entry into France for nationals of countries outside the European Community (EC). You are encouraged to confirm with your national authorities if other documentation (such as visas) is required before departure to France.
Climate and Time Change
The climate in Toulouse has a Mediterranean influence. The average high temperature for Toulouse in June is between 15-30° Celsius. France time is at Greenwich Mean Time plus one hour (GMT+1). A current weather forecast can be found at the web site of:http://www.usatoday.com/weather/forecast/worldfo1.htm<![if !supportNestedAnchors]><![endif]>
Banking and Credit Cards
Banks are usually open from Monday to Friday from 09.00h to 12.00h and from 14.00h to 17.00h. They are closed during the weekend. Most banks provide 24-hour cash machines. These are located throughout the city.
Currency can be exchanged in banks and at the reception desk of the hotel. Exchange of currencies is also possible at the airport and the train station.
Most large restaurants and shops accept international credit cards, but please check for the credit card stickers displayed on the doors before you enter. American Express, MasterCard and Visa credit cards are the most widely used.
Value-added Tax (VAT) Refund
If you are not a national of an EC country, you can be reimbursed the VAT at the Airport. Please ask the shop for a tax-free form and together with the form and the goods you bought, you will be reimbursed at the tax-free desk at the airport.
Telephone and Postal Services
The international dial code for France is 33, and the area code for Toulouse is 5. For local calls, you must add "0" in front of the area code. Crediphone cards must be used for public phones. These can be bought in "Tabac" shops or post offices. Post offices are usually open from 08.30h to 17.00h
Opening Hours
Most shops are open from 10.00h to 19.00h. The museums are usually open from 10.00h to 18.00h. You may get more information about the museums in Toulouse on the following web site: http://www.mairie-toulouse.fr/ANGLAIS/Culture/IndexCulture.htm
Electricity
The voltage in France is EU standard of 220 volts/50 hertz. Please ensure that you have the proper adapters for your appliances.
Food and Wine in Toulouse and Midi-Pyrénées
CUISINE: Although cassoulet (a delicious meat and white-bean stew) is probably the best known local dish, the fields of Toulouse Midi-Pyrénées provide French cuisine with many of its finest flavours. These include foie gras, wild mushroom, Magret, Armagnac brandy, Roquefort and a number of other excellent cheeses.
The region's capital, Toulouse, also has its own specialities, like cassoulet and saucisse de Toulouse. And for the sweet of tooth, violet-scented candies remind local visitors that the flower is a symbol of Toulouse's art de vivre.
WINES: Flanked by the two biggest wine-producing areas in France (Bordeaux and the Languedoc region), Midi-Pyrénées contains 16 AOCs, each very different.
The geographic diversity and the range of grapestocks make for a wide variety of good, reasonably-priced wines. Probably the best known are Cahors, Fronton, Gaillac, Madiran, Pacherenc, Saint-Mont and the incomparable fiery brandy from Gers, Armagnac.
---
USEFUL WEBSITES
http://www.ot-toulouse.fr/english/index.html
http://www.mairie-toulouse.fr/ANGLAIS/Accueil_En.htm
http://travel.yahoo.com/t/Europe/France/Toulouse/
http://dg.travelnow.com/index.jsp?cid=9505&action=viewLocation&locationId=33801
http://www.vivre-a-toulouse.com/@uk/index.htm
http://www.toulousehotelstoday.com/
http://www.hebergements-de-france.com
http://www.reserv-hotels.fr/FR-hotel-list.php3
http://france.map-vista.com/toulouse-map/ (City street map of Toulouse)